Father and son Rick and Jon Aicher were looking to start a trophy making business together. Rick, a retired electrician and Jon, a 2007 University of Maryland – College Park graduate with a journalism degree, initially thought that starting from scratch would be best.
But, destiny stepped in. A family friend shared with them in 2013 that the owner of the long-standing Bry-Mar Trophy store in the Gaslight Village Shopping Center was looking to sell the business.
"We kind of cold called him," Jon said of reaching out to then-owners, Steve and Rita Chesley. The Chesleys were happy to oblige and even agreed to stay on for the first three months, trained the father/son duo and introduced them to regular customers.
"We basically had established accounts," Jon said. "That's really what we purchased."
"We have a great customer base," Rick added.
The Aichers officially took over Bry-Mar Trophy in August 2013. The business, which had first opened on Bridge Street in Morrisville in 1961, was named for its original owners.
For the most part, the family's work is largely seasonal given that much of the orders come from local school districts and sports teams as end-of-season acknowledgements. From mid-April through July 4, Jon said the shop makes between 4,000 and 5,000 trophies, which amounts to about half of the annual revenue.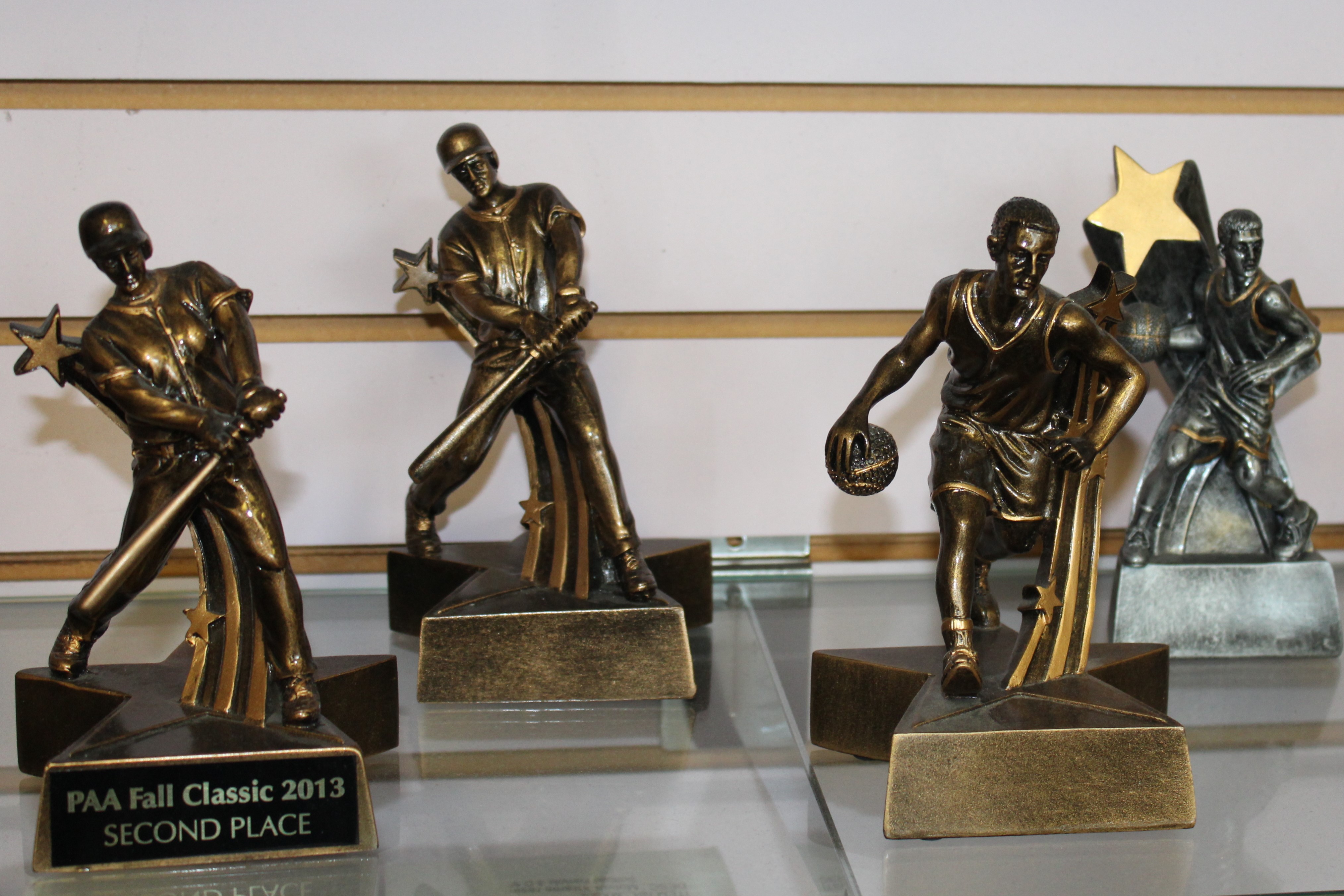 "Every day it's the two of us here," Jon said. "My father is mostly in charge of handling the financial side of things. I'm production."
In addition to the local projects, Bry-Mar Trophy also does corporate work for Rider University and Princeton University.
Given the volume of items that the Aichers and their seasonal helpers produce, the 1,000-square-foot shop is a bit cramped at times, but the family said the growing pains are worth it to keep customers happy – and easily able to find them. One-quarter of the shop's customers are walk-ins. The rest are regulars who reach out prior to their annual awards ceremonies.
"Most of the time it's very happy and it's people looking to celebrate something," Jon said.
Rick recalled a plaque that he and Jon made to commemorate the 60th anniversary of the 1955 Morrisville Little League World Championship.  Other notable items are plaques created to celebrate a police retirement.
No matter the project, the Aichers agree that working together is the best part of business ownership.
"I love it," Rick said. "I'm grateful for the opportunity to be able to work with him every day."
"People don't get to work with their families as much anymore," Jon added.
To learn more
Bry-Mar Trophy is located at 85 Makefield Road, Suite 3 in the Gaslight Village Shopping Center. Hours are Monday through Friday from 10 a.m. to 5 p.m. For more information, visit www.brymartrophy.com, call 215-295-4053 or email brymartrophy@gmail.com.