Elite Massage Therapy of Bucks County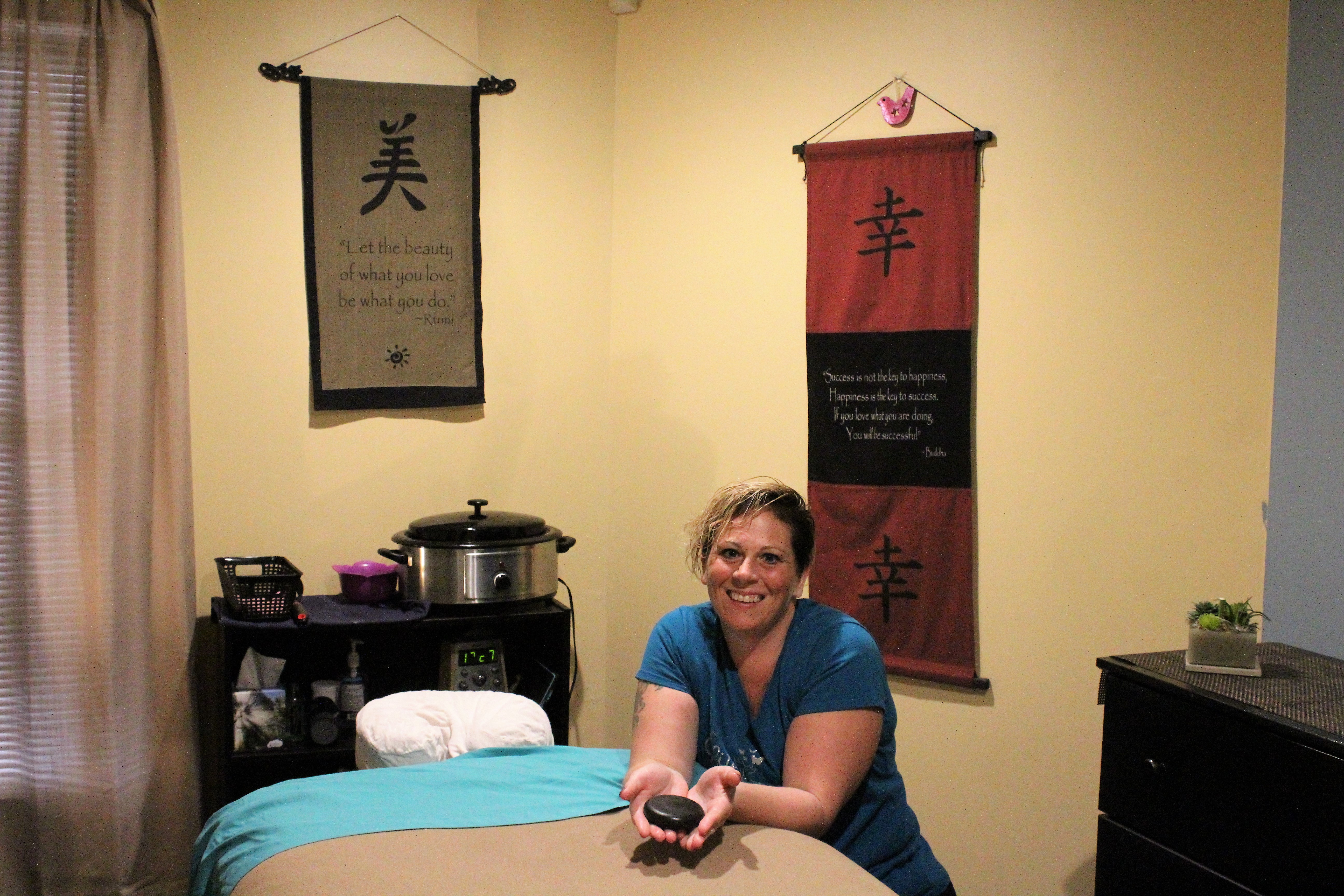 Sonja Lay always knew she wanted to help people. Her first instinct was to go to school and become a nurse's aide.
She quickly realized the downside of losing patients.
"My heart just broke too many times," said Lay.
A crafty, artsy, caring and fun-loving woman by nature, her husband, Dylan, suggested she consider attending massage school. The trade could marry her loves of working with her hands and helping people. With Dylan's support, along with her mother, Carol, she set out to become a massage therapist.
"I fell in love the first day I walked in class," she said.
Owner
In 2005 Lay, of Langhorne, graduated from the Professional School of Massage. Three days after graduating, a chiropractor in Newtown hired her to offer massage therapy at his practice.
"He liked my personality," the always-smiling Lay said.
She stayed at the practice for two years before moving, along with the chiropractor, to a wellness center. In 2012, she started her own business, Elite Massage Therapy of Bucks County inside a chiropractor's office in Bristol. She relocated to a small suite on Big Oak Road in Falls Township in the fall of 2018.
Despite being out on her own, Lay said she remains grateful to the doctors, teachers and people who supported her along the way.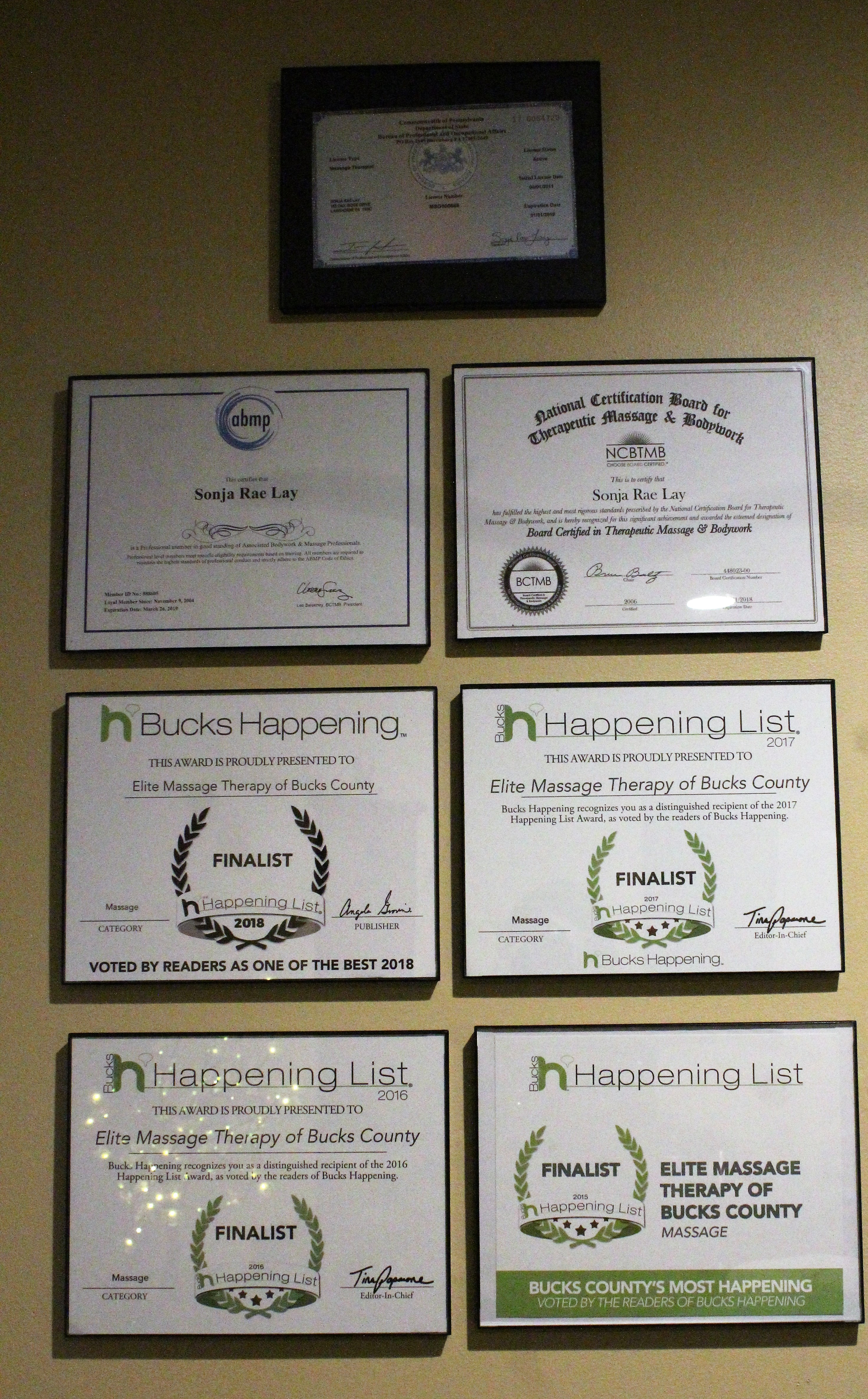 "I love what I do," she said between massage appointments. "It's not a job. It's a reunion every month."
Her passion for massage shows. Many of her clients sought her out after she left the wellness center and continue to see her regularly for routine massages.
Jessica Sorcek has been a regular since Lay first got started more than 13 years ago. When Lay left the chiropractor practice, Sorcek first tried other massage therapists before realizing that none could quite match her techniques.
"I've been to tons of massage therapists and masseuses. I needed to find her," said Sorcek, who requires massages to cope with scoliosis. "I love her. She does cater to every single person. She knows exactly what I like."
Sorcek moved from Philadelphia to Delaware County, but still makes the more than one-hour drive each way monthly to see Lay.
"She just genuinely cares about my well-being," she said. "As a massage therapist she's the best I ever had."
A sole proprietor, Lay strives to give her regular clients a positive experience, incorporating hot stones, hot towels and other modalities based on individual needs.
"They call me the pain goddess," she said. "I like to fix the problems and help them … I'm very intuitive with the body."
Lay has Board Certification in Therapeutic Massage and Bodywork and is a professional member of Associated Bodywork and Massage Professionals.
In addition to helping her clients feel their best, she practices what she preaches, getting her own massages twice a month and working hard to stay in shape. An avid runner of all distances, she participates in marathons, spartan races and mud runs.
"I'm always going. I don't sit still," she said. "It's just me."
Yet, she cautions that everyone – herself included – has limits.
"I won't do more than I can handle," Lay said.
Some of her clients see her monthly, while others come in weekly or every two weeks. The length of the massage session varies too from client to client, depending upon medical issues, sports injuries and other factors.
"Listen to your body," she said. "Your body will let you know when you need to come in."
To learn more
Elite Massage Therapy of Bucks County is located at 81 Big Oak Road, suite 110. Gift cards are available for purchase. Hours are by appointment only. For more information, visit http://elitemassageofbucks.abmp.com/ or call/text 215-783-0999. Follow the business on Facebook to see the latest specials.