The Five Four Bar & Grill
The food service industry is all that Joseph Griffin knows. A long-time bartender at Michael's Restaurant in Morrisville, Griffin, a father of two, was looking to spread his wings a bit, while working a more flexible schedule.
Buying his own neighborhood bar and restaurant was the answer. Four years ago, he bought the 5,000-square-foot New Falls Road space formerly known as Da Bar & Grill and converted it to The Five Four Bar & Grill.
"I was looking for a place for a little while," he said. "With this one, all the bones were already here."
Griffin remodeled the space, adding fresh paint and removing a glass box from the bar area to allow for easier conversations and to bring "everybody together."
He reworked the menu, adding in daily food specials and a burger of the week. Popular options include the roast pork sandwich, chicken wings (available in one of seven different sauces), steamers (littleneck clams steamed in white wine garlic sauce) and chicken marsala. The wide-ranging menu also features a variety of soups, salads, sandwiches, wraps and pasta options.
"People always book parties because of the chicken marsala," he said. "The food is my hook. That's how I get people to come in."
Five Four also offers a daily happy hour from 5 p.m. to 7 p.m., more than 90 craft beers, mostly in bottles, as well as beer on tap.  The eatery features two bars, one used primarily for reserved events. Approximately 130 seats are available throughout the restaurant, with more seating available at the bars. Outdoor patio seating is also available in warmer months.A party area, which seats about 100, can be reserved for special events, including reunions, birthday parties and more.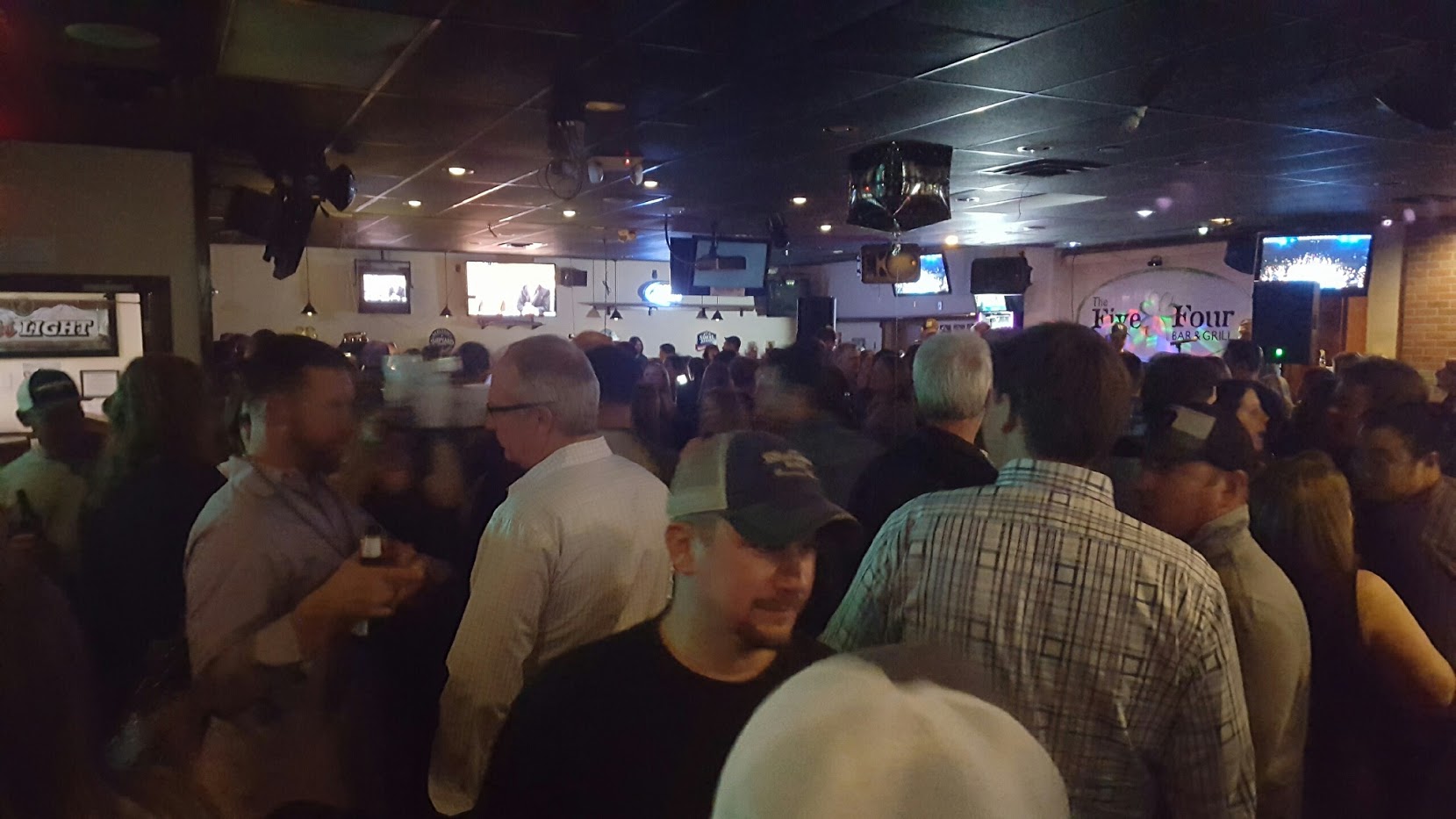 Instead, guests and regulars alike can enjoy watching sports on 25 big-screen TVs, play shuffleboard, a golf game, pool on one of three tables, and throw darts either with someone at the bar, or "anywhere in the world."
"It's all live time," he said of the dart games. "There's a camera on there. They can see you. You can see them."
In terms of entertainment, Griffin switched from a DJ on weekends to a live music format Friday and Saturday nights. Karaoke is every Tuesday night, Wednesday is open mic night and Thursday features piano.
The biggest change in Griffin's bar was in its patrons. When he first opened Five Four Bar & Grill, Griffin policed the door, particularly on weekends, sending riffraff away.
"It was tough in the beginning transitioning from one crowd to another," Griffin said. "Once you police it and bring good clientele in, they police it for you. They come here because it's not like other places."
Indeed. Griffin and his 15 employees treat all customers as if they matter – because they do.
"I like people. Once our rush is done, I'll come out here and socialize with the customers and help out at the bar," Griffin said, adding that he gives his staff the following advice. "Treat a customer that comes in like they're a regular and treat your regulars like a super star. You've got to make people feel important."
To learn more
Five Four Bar & Grill is located at 8919 New Falls Road in Levittown. The restaurant and bar is open daily from 11 a.m. to 2 a.m. Catering is available, as well as party room reservations. For more information, visit http://www.thefivefourbarandgrill.com/index.php or call 215-547-5525.