In 2000, when Linda Arye created what would become a national nonprofit quilting organization, she didn't know how to sew. An interior designer, Arye, of Yardley, started with one simple mission: "I just wanted to save a little fabric from the landfill."
Throughout the years, Arye and her volunteers have saved many millions of pounds of discontinued fabrics and sample swatches from landfills. Her noble mission, which began by loading her car with unwanted fabrics and storing them at her home – eventually filling every room – has put hundreds of thousands of patchwork quilts in the hands of hospitalized children, as well as children of abuse and poverty, globally.
Boy Comforted by Quilt
Initially, Arye didn't know what to do with the abundance of fabric. But, then a memory of her daughter Mollie's visit to the hospital at age 4 flashed through her mind.
"She couldn't haver her bear bear," Arye said. "She didn't go anywhere without it. She was crying for bear bear and she was crying for me."
Making patchwork quilts for children was how she could recycle all the unwanted fabric.
"Somebody else's child might be comforted by it when mine couldn't," she said.
Once the idea was born, Arye's grassroots organization quickly began to grow. She continued storing fabric in her home and greeting kind-hearted volunteer quilters there, until relocating to a 3,500-square-foot space in Falls Township in 2010.
In addition to the local organization headquartered in Bucks County, Quilts for Kids has more than 90 chapters all over the U.S. and Canada.
"They're just good-hearted quilters who want to make a difference in their community," Arye said. "You can't keep a good idea down."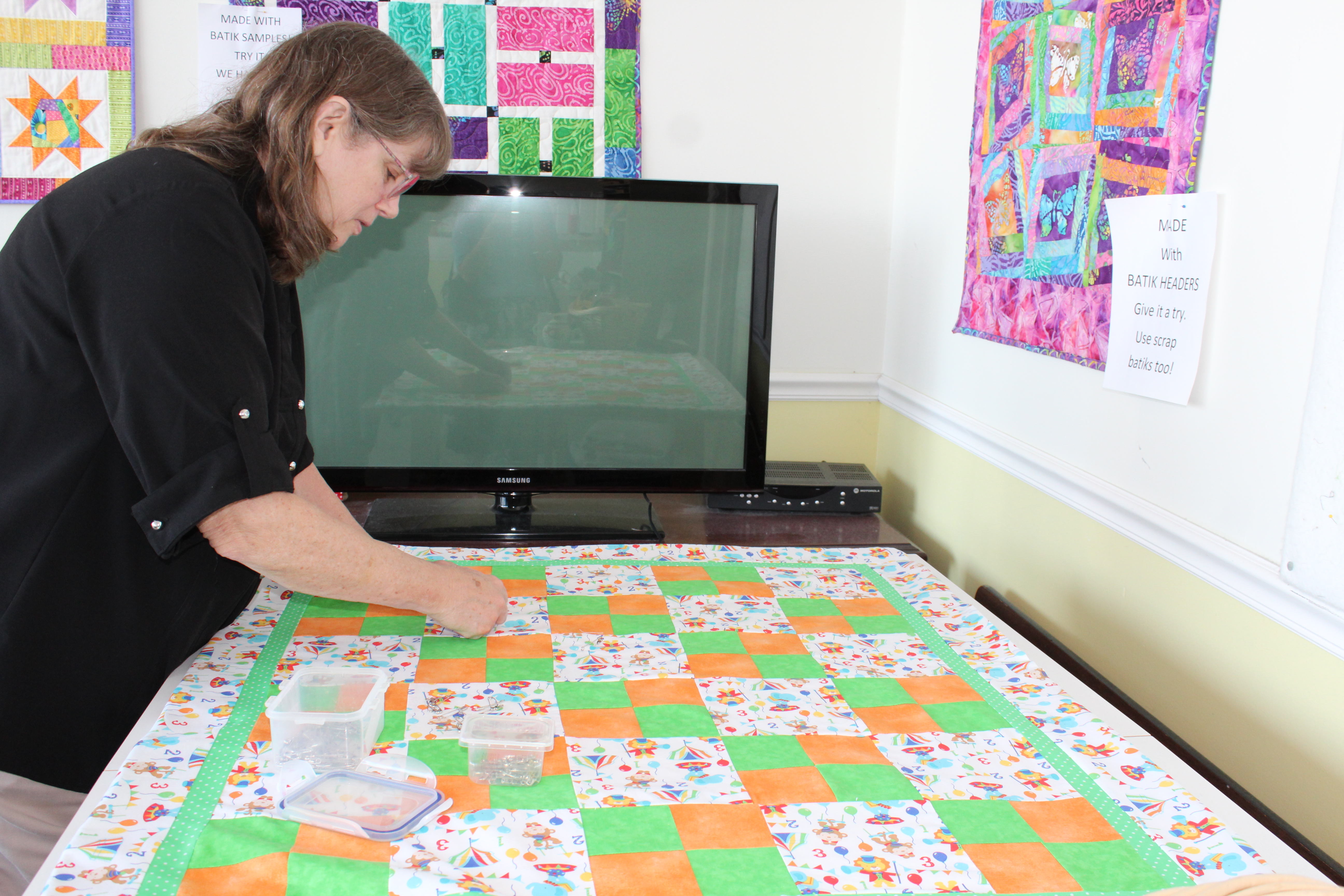 Arye, who has since learned to not only sew, but to make beautiful quilts, strives to make and distribute 30,000 quilts to hospitalized children, many with life-threatening illnesses, each year. The charity also donates quilts to children of abuse and poverty, as well as those who have been affected by natural disasters.
Quilts for Kids has received backing from large companies, including Procter and Gamble, which made 12 million bottles of a specially marked Downy product and donated a portion of the sale to the organization. During a recent visit, Arye pointed out that a company donated 18 pallets of fabric – a $300,000 value.
The organization accepts donations of new cotton that is brightly colored, pastel and kid-oriented prints. It costs approximately $55 to provide each child with a quilt.
"We start local, then we go global," Arye said. "We have donated to every children's hospital in America."
Arye and her team of nationwide volunteers have taken on the role of first responders following 9/11, as well as natural disasters, including Hurricane Katrina and Hurricane Sandy. Cindi Rosenberger, who has assisted the last 16 years, pre-cuts and packs kits for distribution to groups around the country, sending out as many as 100 kits per week.
"I have the best job in the world," Rosenberger said. "I cut and bag fabric."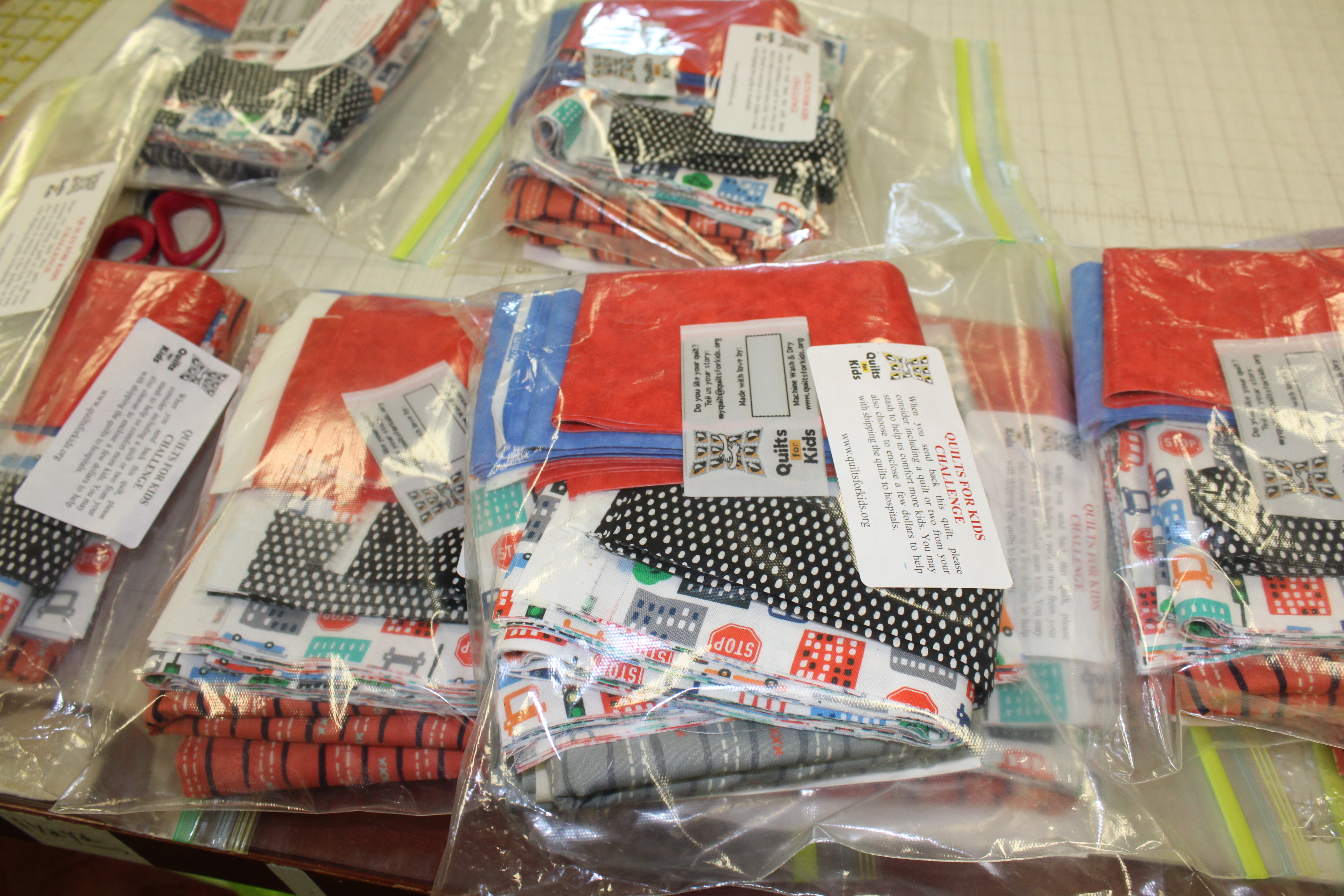 During business hours, Quilts for Kids is buzzing with activity. Volunteers' nimble fingers guide fabric through whirring sewing machines as friends chat about their loved ones and share excitement over each finished piece.
Volunteer Peggy Sarber, of Levittown, has been helping for the last three years. She can usually finish a quilt over two four-hour days.
"Some days we talk too much," she said, nodding knowingly to a friend.
Pat Devonshire has traveled from Philadelphia weekly for the last four or five years.
"I just love putting things together," she said. "Giving something of yourself to a child in need is just great."
Many quilters bring their own sewing machines. Arye said a few are available for use and volunteers are always eager to teach a newbie.
"They come here and they're lifted," Arye said of the friendly atmosphere. "It's such a warm, fuzzy place."
To learn more
Quilts for Kids Inc., a nonprofit organization providing new patchwork quilts to hospitalized children, is headquartered at 494 Lincoln Highway in Fairless Hills. Hours are Monday through Friday from 10 a.m. to 3 p.m. and the first Sunday of each month from 10 a.m. to 3 p.m. Volunteers are always needed to create quilts. Financial contributions, as well as donations of new fabric are welcome. Click here for more information on fabric specifics: http://www.quiltsforkids.org/faq.htm. To learn more about the organization and how it helps, click here: http://www.quiltsforkids.org/videos.htm. Quilts for Kids can be reached at 215-295-5484 or by email at info@quiltsforkids.org.