Sep 20, 2023
General News
When Fred Fletcher purchased his father's auto repair shop in 1999, relocating it from Trenton, N.J. to Falls Township was a no-brainer.
"I've lived in this neighborhood for 32 years," Fletcher said of the Hood Boulevard area where he started Fletcher's Garage more than 20 years ago. "That's one reason why I picked this place."
Fletcher has worked as a mechanic since 1986. He still works on cars occasionally – in addition to overseeing the shop – but mainly leaves under the hood auto repairs to his three mechanics. His service writer, Kelli, handles repair estimates and scheduling.
"They're all local people," he said. "Falls Township people."
The full-service garage uses the latest technology to diagnose and fix vehicle malfunctions. With the exception of transmission repairs, mechanics handle every type of repair and maintenance for all vehicle makes and models.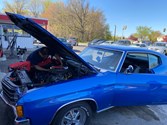 Fletcher's Garage is a AAA-approved auto repair facility, which ensures that all technicians are Automotive Service Excellence (ASE) certified. AAA-approved facilities also "undergo rigorous inspections" by and with more than 7,000 shops in North America, according to AAA.
Fletcher prides himself on his honest approach to doing business. His customers notice. Numerous online reviewers talk about reasonable prices, outstanding work, and friendly service.
Fletcher's is community oriented and gives back. The business is involved with many local fundraisers, including Toys for Tots and Relay for Life of Fairless Hills.
The shop provides AAA members with a 10 percent discount. In addition, the shop stands by its repairs with a two-year/24,000-mile warranty – just another way to offer customers peace of mind.
"I do things the old-fashioned way with customer service," Fletcher said. "We treat everybody the same. Whether you're a millionaire or a dollaraire, you get the same treatment, same explanation."
To learn more
Fletcher's Garage is located at 480 Hood Blvd., in Fairless Hills. The shop is open Monday through Friday from 8 a.m. to 5 p.m. To make a vehicle service appointment, call 215-295-4931. For more information, visit https://www.fletchersgaragepa.com/.